The Patriarch
Giclé

e

on German Etching Paper


Image Size 21.8" x 37.5"
Signed, Limited Edition: $490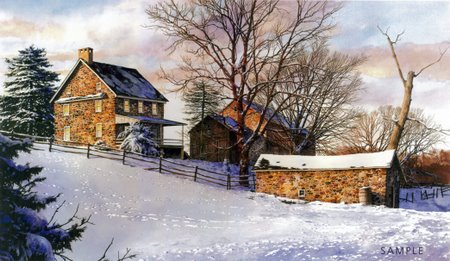 The rich colors of evening and the wonderful glow that accompanies that special time of day served as a backdrop and inspiration for this major watercolor by Richard Bollinger. The Patriarch, now a local landmark, captures a moment in time when scenes like this were commonplace. Farms and the families that worked them played a vital role in the community. They were centers of activity. Today, silent and surrounded by commercial expanse, this classic Pennsylvania landscape stands as a timeless reminder of those early years and a monument to the countless patriarchs whose hard work, dedication, and faith contribute greatly to our rich heritage and life in rural America.
The Patriarch was created using a Giclée process. Each Giclée is printed on fine German etching paper and produced individually using an eight color digital press. The press sprays millions of droplets of inks directly on the paper surface yielding an image that is continuous in tone. The archival quality of the print is remarkable. The special links used have been tested to last over two hundred years under normal viewing conditions. Although each print has a protective finish, like the original, they are fragile and care should be taken in handling. This process of reproduction is by far the most accurate, guaranteeing faithfulness in color and detail to the original artwork.
| | |
| --- | --- |
| Original | Sold |
| Signed, Limited Edition: $490 | |