Taylor's Run
Image Size 19.25" x 32"
Signed, Limited Edition: $160
Artist's Proofs: $320
Remarques: $900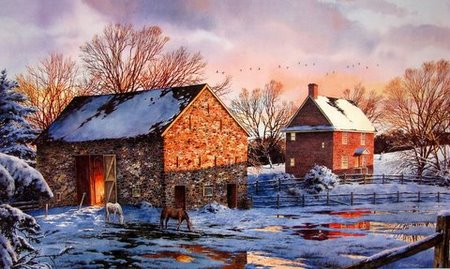 "Every purchaser and adventurer shall, by lot, have so much land ..." That declaration made by William Penn in 1681 was followed one year later by the appointment of Pennsylvania's first three counties - Chester, Bucks, and Philadelphia. That was just the encouragement those early adventurers needed in settling this new colony. They were mostly ordinary men - merchants, shopkeepers, craftsmen, and farmers. They were all seeking a new way in this new world. Colonist Abiah Taylor was one of those adventurers. In 1702, he obtained property along the west branch of the Brandywine River and in 1724, built the classic brick home pictured above. Several years later, Taylor established a mill along the banks of the river and soon the tributary became known as Taylor's Run.
In this work, Richard Bollinger has captured Chester County's oldest existing brick home bathed in the wonderful glow of evening light. The dramatic landscape portrays this historic landmark as it may have appeared centuries ago. His ability to create vignettes of rural life in America has won a warm place in the hearts of art collectors across the country.
This edition was printed on the finest quality 100% acid free paper. Each print has been personally inspected, signed and numbered by the artist.
| | |
| --- | --- |
| Signed, Limited Edition: $160 | |
| Artist's Proof: $320 | |
| Remarque: $900 | |