Nightfall at Fell's Point
Image Size 28.75" x 17.25"
Signed, Limited Edition: $150
Artist's Proofs: $300
Remarques: $900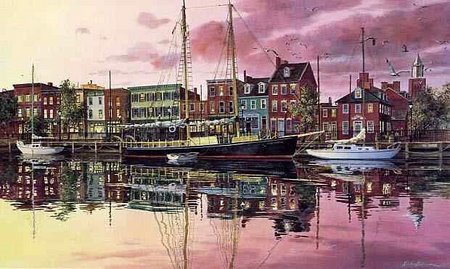 It's quiet now in the harbor. The wind has eased and the last light of day has cooled into the clouds of evening. The sounds of the gentle lapping waters of the Chesapeake can be heard along the docks and now the classic sailing ships are at rest ... it's Nightfall at Fell's Point.
Built during the Revolutionary War, Fell's Point was the original port of Baltimore. The busy waterfront community boasted over twenty shipyards that produced the world famous Baltimore Clipper ships. The U.S. Frigate Constellation was also built there.
Through the centuries, the architecture and physical appearance of the area has changed very little. In fact, this dramatic twilight painting captures this port of call exactly as it appears today.
| | |
| --- | --- |
| Signed, Limited Edition: $150 | |
| Artist's Proof: $300 | |
| Remarque: $900 | |