Morning Prelude
Image Size 21" x 30"
Signed, Limited Edition: $160
Artist's Proofs: $ 320
Remarque: $900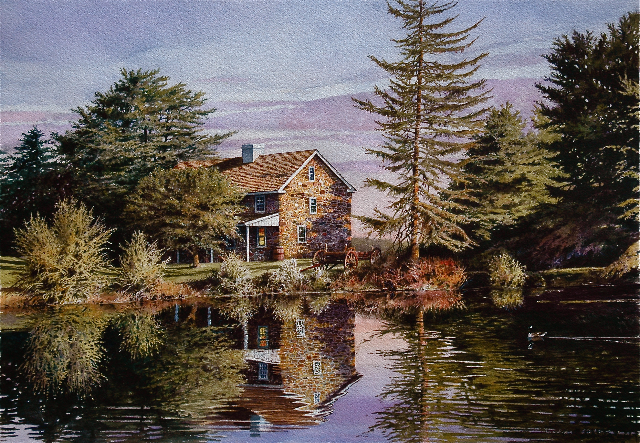 Chester County, Pennsylvania: 1791
It's quiet in the heart of Pennsylvania farm country. Conrad Ackers lights a small lamp in his modest fieldstone home. As he ponders his responsibilities of a new day, the clock on the mantle strikes. He glances at his watch and then looks out across the meadow. Impressed by the colors and glow of the early morning light, he pauses for a moment, closes his eyes, and then looks up. He is filled with gratitude for another day and the opportunity he has been given to provide for his family. Before long, his hands will be filled with work and the rich, fertile soil of the great valley. In moments, the farms will spring to life and demands for his attention will seem endless. But right now, this silent "looking up moment" is essential to him. He has done it as long as he can remember. It is simply a part of who he is. It has become the prelude to each and every one of his mornings. It is a time to reflect, in part, on the day to come, but more importantly, it is his very personal time to express his deep admiration to the One who created it.
Artist Richard Bollinger has captured this historic landmark now at rest, in his painting, Morning Prelude. The painting has been faithfully reproduced on the finest quality 100% acid free paper. Each impression has been personally inspected, signed, and numbered by the artist.
| | |
| --- | --- |
| Signed, Limited Edition: $160 | |
| Artist's Proof: $320 | |
| Remarque: $900 | |