Mascot Mill
Image Size 17" x 29"
Signed, Limited Edition: $160
Artist's Proofs: $320
Remarques: $900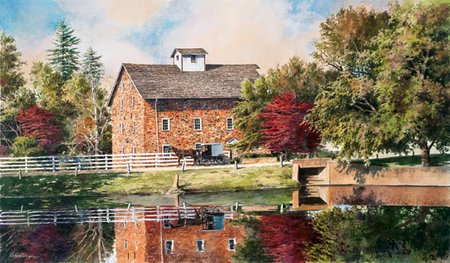 Nestled in the heart of the thriving farming community of Eastern Lancaster County, Pennsylvania, stands the Mascot Mill. It is a classic example of a nineteenth century flour mill. The original structure was built in the mid 1730's and was raised to its present height in the early 1800's. Water powered mills were an important part of colonial life. They were found throughout the countryside on just about every stream with sufficient power and were centers of activity. Heavy wagons, bursting with grain, would pull up to the doors of the mill after harvest. Farmers would heave their sacks up near the huge mill stones which never seemed to stop turning ... always at work.

Artist Richard Bollinger has captured this historic landmark, now at rest, in his most recent painting, Mascot Mill. As it appears, wonderfully restored, the Mascot Mill represents over two centuries of milling history. But more importantly, it gives us a window to our past. Except for the sounds of an occasional buggy, it stands as a marvelous monument to days gone.
| | |
| --- | --- |
| Signed, Limited Edition: $160 | |
| Artist's Proof: $320 | |
| Remarque: $900 | |