Light of the World
Image Size 8.5" x 12"
Signed, Limited Edition: $75
Artist's Proofs: $150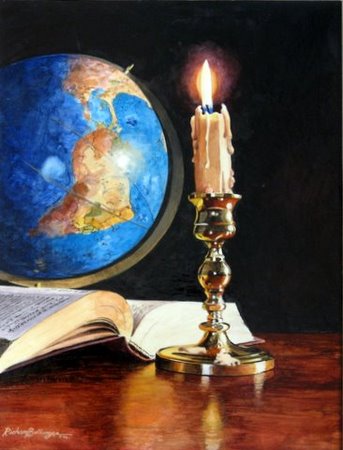 I'm often asked how I choose a specific scene or topic to paint. The simple answer is light. The way a subject is illuminated gets my attention every time. "Light of the World" is no exception. The painting was conceived by observing the effects of warm, incandescent light on a variety of surfaces (wood, paper, brass). Highlights, shadows, contrast, reflected colors and shapes all come together as a result of light. It is foundational to an artist. To Planet Earth, light is critical. The ancients viewed light not only as something necessary to keep us from stumbling in the dark; they also associated it with virtues like truth and goodness. Either way, a world without light is pretty unthinkable.
| | |
| --- | --- |
| Signed, Limited Edition: $75 | |
| Artist's Proof: $150 | |