Annapolis First Light


Image Size 17.75" x 32"
Signed, Limited Edition: Sold Out
Artist's Proofs: Sold Out
Remarques: Sold Out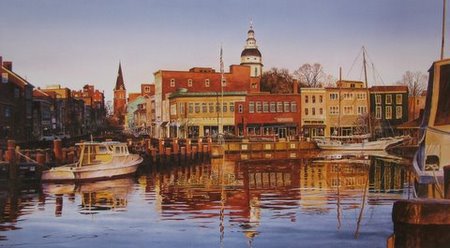 As day breaks in Annapolis, rich golden tones of first light embrace the waterfront. Contrasting with the cool ultra-marine blue of the morning sky, a marvelous palette is created for this picturesque port of call. Serving briefly as the capital of the United States, Annapolis is a town rich in history and tradition. It can be seen in the brick paved streets, on the water, in every doorway and window, and in the lines of the classic vessels that find shelter in its harbor. As long as the wind has taken man around America, Annapolis has truly been the sailing capital.
In this striking early morning painting, watercolorist Richard Bollinger has captured the heart of this historic harbor just as it appears today. His masterful watercolors of historic American scenes are becoming legendary.
This edition was printed on the finest quality 100% acid free paper. Each print has been personally inspected, signed and numbered by the artist.